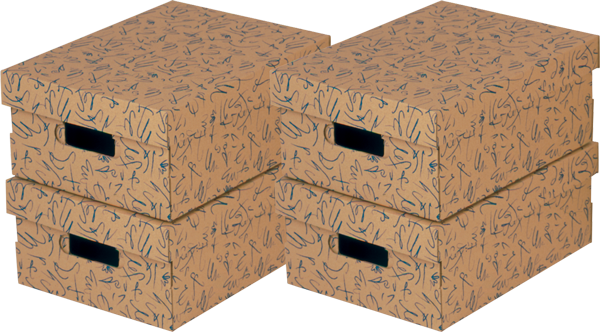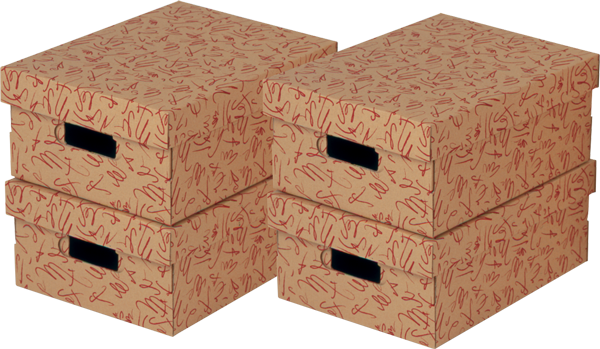 Storage boxes in a pack of 4 at particularly attractive price
Ideal for everything which has to be stored in household, hobby area or garage
Package content:
4 boxes colour blue/brown
or red/brown
Manufactured with 100% recycled cardboard
Made of responsible sources – FSC® certified
Minimum order quantity approx. 2,000 pcs. – Please inquire!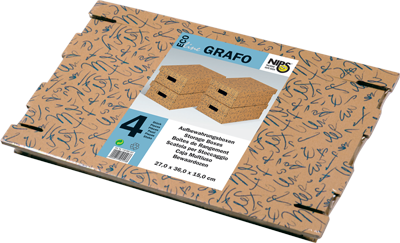 Storage boxes will delivered flat packed including sales promoting folder with easy-to-follow assembly instructions, optional available in attractive eye-catching presentation (carton containers).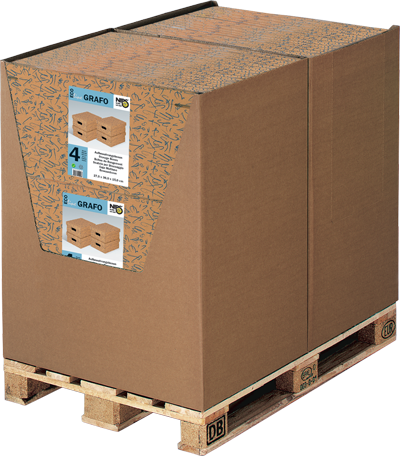 Delivery unit:
Pack of 4 Packung in foil with sales promotion folder incl. EAN barcode
in carton box, sorted (10 packs of 4)
in carton container, sorted (54 packs of 4)
or as a complete pallet presentation (108 packs of 4) on Euro-pallet
Article Descripition

Measures in cm
(W x D x H)

Colour

Art.No.

Content Sales Unit

ECO line GRAFO
Storage boxes
pack of 4

27.0 x 36.0 x 15.0

blue/ brown

110091407

10 packs of 4

ECO line GRAFO
Storages boxes
pack of 4

27.0 x 36.0 x 15.0

red / brown

110091408

10 packs of 4

ECO line GRAFO
Storage boxes
pack of 4
in carton container (W 80 x D 60 x H 102 cm)

27.0 x 36.0 x 15.0

blue/ brown

110090407

54 packs of 4

ECO line GRAFO
Storage boxes
pack of 4
in carton container (W 80 x D 60 x H 102 cm)

27.0 x 36.0 x 15.0

red / brown

110090408

54 packs of 4

ECO line GRAFO
Storage boxes
pack of 4
in carton container
on Euro-pallet (W 120 x D 80 x H 117 cm)

consisting of 120 packs in total

blue/ brown
red / braun

54 packs of 4
54 packs of 4